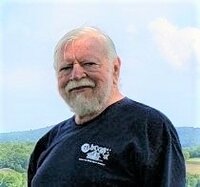 Ronald Walton "Ron" Winters
Dateline: Jonesville, New York
Ronald Walton Winters, 79, of the hamlet of Jonesville in Clifton Park, NY, passed away on September 26, 2021. He was the son of Hazel and Clarence Winters of Central City, KY. Ron was a graduate of Central City High School and the University of .Kentucky, earning a B.S. and M.S. in Physics, and an M.S. from the University of Michigan's School of Public Health. He was employed at the Knolls Atomic Power Laboratory in Niskayuna, NY, retiring as the Principal Industrial Hygienist. He married Gail Plummer Winters of Plainfield, NH on February 28, 1970. He is survived by their son Ethan Winters, also of Clifton Park and their beloved cat Bella. Ron is now with his parents and the late great cat Molly.
Ron enjoyed carpentry and working on the family's "ultimate antique" home. He and Gail hiked in the mountains of New Hampshire, Utah and California and in the gorges of Kentucky. He also enjoyed going to Bob Dylan concerts with his son. In retirement, he concentrated on photography. He printed his landscapes and details of natural areas for all to enjoy. He was a long-time member of the Jonesville Cemetery Association, with a special interest in repair and restoration of gravestones.
Ron will be remembered by his friends and neighbors, his Kentucky cousins, and members of Gail's family.
In lieu of flowers donations may be made to The Nature Conservancy.
Calling hours will be Saturday from 2-4 pm in the Gordon C. Emerick Funeral Home, 1550 Rt. 9 Clifton Park, NY 12065, 518-371-5454.