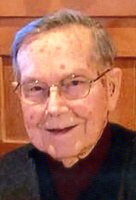 H. Clinton "Clint" Hegeman
H. Clinton Hegeman, "Clint", 101, of Scotia, formerly of Port Washington, NY and State College, PA, passed away after a long illness on Friday, October 29, 2021.
He was the beloved husband of Marcia Herrgesell Hegeman of Scotia, devoted father of Lorraine McMahon, Marjorie (John) Kasten, Janice Altman and Phyllis Hegeman, and is also survived by 8 grandchildren, 11 great grandchildren and several nieces and nephews.
Born in Port Washington, NY, he was the son of the late Howard C. and Grace Davis Hegeman, brother of the late Louise Newbold Hutchinson, the late W. Davis Hegeman and the late Adeline Trautschold. He was a U.S. Army veteran of World War II. Clint attended Bucknell University in 1939, where he met the love of his life, and they married on July 10, 1943 in Elizabeth, NJ. They were married 78 years and spent their last days as a couple together.
In 1945, Mr. Hegeman began his career at his family business, Howard C. Hegeman Agency Inc. in Port Washington, NY, where he was partners with his brother until 1976. He then started the Clint Hegeman Insurance Agency in State College, PA, which he sold when he retired in 1985.
In Port Washington, he was a member of the Lion's Club, and after moving to State College he was a member of the Kiwanis and a Lifetime Member of the State College Chamber of Commerce. He was a member, and had been on the consistory, of Faith United Church of Christ in State College. He is a member of Christ Community Reformed Church in Clifton Park.
While in State College he was a dedicated volunteer with VAC (Volunteer Action Center), RSVP (Retired Senior Volunteer Program), Centre County Office of Aging, and the American Red Cross Blood Services Committee. His wife Marcia was once quoted about Clint, "I think his hobby is helping other people." He himself was quoted, "I enjoy volunteering. I like to help others. I've been doing it my whole life. When you volunteer, you get back what you put in." In 1990, he was recognized with the Benjamin Rush Award for his lifetime achievement.
Relatives and friends are invited to a Memorial Service at Christ Community Reformed Church, 1010 NY-146, Clifton Park, NY 12065 on Friday, November 5, 2021 at 2:30 p.m. and will be available online that afternoon beginning at 2:25 pm at https://www.youtube.com/c/CCRCCliftonPark/live
The funeral will be recorded and be available on the church YouTube Chanel Saturday at https://www.youtube.com/c/CCRCCliftonPark/videos
Burial will be held privately at the convenience of the family at the Maple Shade Cemetery (Herrgesell family plot) in Scotia.
Those desiring may make memorial contributions to the Bucknell Fund, payable to Bucknell University and mailed to Bucknell University, Gifts Processing, 301 Market St., Lewisburg, PA 17834 or online at https://give.bucknell.edu, in memory of H. Clinton Hegeman.
Funeral arrangements have been entrusted by the family to the Gordon C. Emerick Funeral Home, 1550 RT-9, Clifton Park, NY 12065. (518) 371-5454
Please express your on-line condolences by visiting gordoncemerickfuneralhome.com