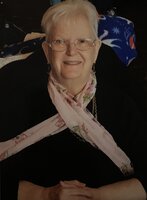 Nancy J. Vrijian
Nancy J. Vrijian (Hogan) of Saratoga Springs, NY, formerly Leesburg, FL and Clifton Park, NY, passed away peacefully on February 3, 2022. She was 73.
Nancy was born in Corinth, NY and raised in Ballston Spa by Frank and Nancy Hogan. She always worked in customer service or in an administrative role. She had that outgoing, spunky, good-witted personality that made her loved by everyone. She was a founding member and volunteer on the Community Emergency Corp. of Ballston Spa prior to marrying, her late husband, Vahan C. Vrijian, of Watervliet, NY. They were best friends and retired together in sunny Florida for almost 20 years. They were married for 52 years prior to his passing in 2020. They enjoyed shopping at farmers markets together, trying new restaurants, bowling, gardening, and simply spending time with family.
They had two children together: Kristen Akelian (Jacques Akelian) of Lexington, MA, and Vahan Vrijian Jr. (Chrissy Vrijian) of Ballston Spa, NY. She has two grandchildren that loved her very much (Jacques and Haley). Nancy also had 6 siblings: The late Frank Hogan (Irene), Margaret Haskell (Frank), John Hogan (Barbara), Tom Hogan (Pam), Lillian Stiles (Bruce), and Alice Smith (Michael). Nancy also has many loving sister and brothers-in-law, nieces, and nephews, and so many friends, all of which will miss her dearly.
Nancy just had an unbelievable energy about her; motivated, determined, loving and warm. Her door was always open, and she was always cooking. In her spare time, she also enjoyed having fun with her grandchildren, reading, playing games on her Nook, shopping, and watching the Cooking Channel or HGTV.
Graveside service will be held on Saturday May 21, 2022 at 11:00 am at Elmwood Hill Cemetery, in Troy, NY.
Arrangements have been entrusted by the family to the Gordon C. Emerick Funeral Home, 1550 Rt. 9 Clifton Park, NY 12065, 518371-5454.