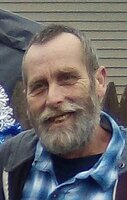 Irwin T. Green
Irwin T. Green, 61, of Lansingburgh, passed away peacefully on Saturday, March 5, 2022.
Born and educated in Troy, he was the son of the late Walter and Elmeda VanAlstyne Green.
Irwin had retired from Cranesville Block Co., Inc.
He enjoyed being around his family, friends, and his dog, Max, most. Irwin liked to spend his time on the road, watching football, and going fishing.
Father of Michael Green, Brandy Green, Molly Gynup, and Holly Green. Grandfather of Angelina Gryboski, Abel Williams, and many others. Also survived by several siblings, nieces, nephews and their families.
Private funeral services were entrusted by his family to the John J. Sanvidge Funeral Home, Inc., 565 Fourth Avenue (at the corner of 115th Street in Lansingburgh) Troy, New York 12182.
Irwin's family wishes to express their sincere appreciation to the John J. Sanvidge Funeral Home.
Please feel free to offer your on-line Condolences by using that tab on this page.