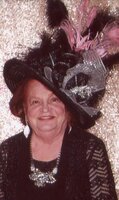 Joan Faith Van Patten
Clifton Park, New York
Joan F. (Young) Van Patten, 82, passed away on Sunday June 12, 2022 at her home in the loving care of family. She was born on June 6, 1940 to the late Albert and Fannie Young. She graduated from Wilbur H. Lynch High School in Amsterdam and attended Cortland State Teachers College in Cortland, NY.
Joan worked for the Department of Motor Vehicles as a head clerk until 1970. In 1979 she had her first book on antiques published by Collector Books, Paducah, KY and continued to author eleven more hard cover editions of antiques until 2005. Over the years she wrote hundreds of articles for antique trade papers and magazines and lectured on antiques throughout the United States.
She was the co-founder of the International Nippon Collectors Club and served as its first president. She also served as a trustee for many years. She volunteered for many organizations including St. Clare's Hospital, CAPTAIN and Shenendehowa United Methodist Church in Clifton Park. She was a member of several Red Hat and Black Hat groups where she met many of her friends.
Joan was pre-deceased by her husband the late Robert Van Patten, Sr. She is survived by her children, Wendy Van Patten Horn (Christopher) and Kristi Van Patten and four grandchildren, Connor Horn, Nolan Horn, Lily Horn and Kylie Van Patten also her brother Michael Young (Marie), and nephew Christopher Young and niece, Lisa Young (Frank).
Joan had a great love for all animals, so please, in lieu of flowers kindly make donations to a pet friendly charity like the Saratoga County Animal Shelter, 6010 County Farm Rd. Ballston Spa, NY 12020 or to a pet charity of your choice.
Funeral service and Interment will be private for the family at the Gordon C. Emerick Funeral Home, 1550 Rt. 9 Clifton Park, NY 12065, 518-371-5454.