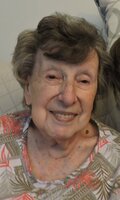 Eva Gatus
Eva Gatus, 102, of Halfmoon, died on Friday August 19, 2022 at St. Peter's Hospital in Albany. She was born on Sept. 20, 1919 in Troy and was the daughter of the late Wasyl and Katherine Hubicki. Eva was the wife of the late John Gatus who died in 1960. She was a house wife and homemaker. After raising her eight children, Eva worked as a cook for the Shenendehowa Central School District. She had a love of family, gardening and cooking. She enjoyed building jigsaw puzzles and was a member of St. Basil's Russian Orthodox Church in Maplewood.
She is the devoted mother of Linda, Nancy (Buz) Olsen, Betty (Gary Finch), Ronald, John and Robert. She was predeceased by her daughters Sandra Gatus and Carol Derado. She is also survived by several grandchildren and great grandchildren…and good friends Rose and Bruce and Wendell.
Graveside service will be held on Friday at 1:00 pm in St. Basil's Cemetery, Maplewood.