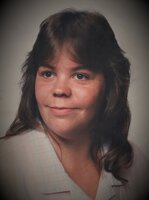 Rose M. Valentine
Rose M. Valentine, 53, long term friend of Alan J. Laverdiere, peacefully entered into eternal life on Tuesday, August 30, 2022.
Born in Troy, she is the daughter Susan Sawyer Sousie and the late Frank H. Sousie and the beloved wife of Mark E. Valentine, who passed in 2015.
Rose worked at Escro Transport in Guilderland for almost 10 years as a dock worker & truck driver where she was happy to have had those years working alongside of her son, Hank L Pooler.
Rose wrote;
In this life I was blessed! I was here long enough to raise my 4 babies Pierre M. Pooler (Kassandra), Hank L. Pooler (Staci), Angela M. Pooler (Alexander)&Kevin J. Pooler. Unfortunately I will watch my grand babies grow from Heaven, but Thankful I was able to watch them come into this world. Although missing out on growing up together I met my sister & Brother Bonnie Sousie (Ero) & Frank Sousie. I will never be dead as long as my family and friends are alive. If a song just will not leave your thoughts, that will be me reminding you to sing be happy & enjoy life. If you stub your big toe and cuss like a sailor, you will know that those words have flown from my mouth into yours. If you wake in the middle of the night with worries keeping you from sleep, remember, It will only change when you have had enough! Those stressful days when you feel like you can't breathe that's me hugging you a little too tight letting you know you're not alone I'm with you!
Rose enjoyed going on vacation to beaches as well as to visit lighthouses.
Relatives and friends are invited to St. Peter's Cemetery, Troy on Thursday, September 1, 2022 for her committal service at 11:00 a.m.
Funeral arrangements have been entrusted by the family to the John J. Sanvidge Funeral Home, Inc., 565 Fourth Ave (at the corner of 115th Street in Lansingburgh) Troy, NY 12182.
Please feel free to offer your on-line Condolences by using that tab on this website.