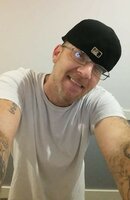 John A. Burns
John A. Burns, 41, of Valley Falls and formerly of Troy, passed away at Samaritan Hospital in Troy on Wednesday, September 21, 2022 after falling ill at work.
Born in Troy, he is the son of Mary Ann Burns and the late Robert J. Darmetko and was educated in Lansingburgh.
John was a painter with Collar City Painting in Troy.
He loved music, cars, motorcycles, tattoos, horse racing, casinos, playing corn hole and would let you know that he was a "John of all trades, not a Jack". Many also knew him by his nickname of "Dopey".
Beloved father of Jordan Burns (Alexis Whalen) and Jaden Burns who are survived by their mother; Jennifer E. Burns, devoted son of Mary Ann Burns, loving brother of Lisa Gela, fiancè of Kate Wagar, nephew of Barbara Burns, stepbrother of Robert Darmetko, Billy Darmetko, Brian Darmetko, Becky Darmetko, Lynn Johnson and Lori Darmetko, uncle of Nichole Gela and great uncle of Avery Mercer.
Relatives and friends are invited to calling hours celebrating John's life on Monday, September 26, 2022 from 5 to 7 p.m. at John J. Sanvidge Funeral Home, Inc., 565 Fourth Ave, Troy, New York 12182.
In honor of Jaden T. Burns, those desiring, may make memorial contributions to the Spina Bifida Foundation, 1600 Wilson Blvd., Suite 800, Arlington, VA 22209 or on-line at sbaa@sbaa.org in memory of John A. Burns.
Please feel free to offer your on-line Condolences by visiting that tab on this page.