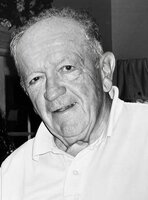 John M. "Jack" Hickey
John M. "Jack" Hickey, 87, of Troy, peacefully entered into eternal life on Saturday, September 24, 2022 at the Eddy Village Green in Cohoes.
Born in Troy, he was the son of the late Harold V. and Margaret M. O'Neill Hickey and was a graduate of St. Francis Academy and Catholic Central High School, Class of 1952.
Father of Michael (Dana) Hickey of Clifton Park, Deb Hickey of Providence, RI and Kevin (Karen) Hickey of Saratoga, who are survived by their mother Lorraine Adams Hickey-Korf of East Greenbush; grandfather of Meaghan, Tyler, Evan, Ryan, Colin, Taylor and Aiden Hickey; brother of Maureen E. "Reene" Coffey, and the late Margaret M. "Marge" Gallagher and the late Kathleen A. Hickey, brother-in-law of the late James "Jimmy" Coffey and the late George W. Gallagher; also survived by several nieces and nephews.
Jack retired in 1978 from the New York State Police in Loudonville where he served as a Trooper for 21 years. He had also previously been employed as a salesman at Mohawk Valley Distributors and at various local car dealerships.
Jack was a member of the New York State Retired Troopers Association and the Brunswick Elks Lodge #2556. He enjoyed listening to jazz music in his free time. Despite his bad golf swing, his friends enjoyed playing with him at Burden Lake Country Club and other courses.
Jack loved to tell a good story and raise a glass with his friends. "Did you hear the one about a State Trooper, a car salesman and a really bad golfer walk into a bar? The bartender looked up from cleaning and says, 'What is this, a joke?'" In lieu of flowers, tell your friends a really long story with a great punchline and raise a glass and say, "This one is for Jack! RIP!"
Relatives and friends are invited and may call at the John J. Sanvidge Funeral Home, Inc., 565 Fourth Avenue (Corner of 115th Street in Lansingburgh), Troy, NY 12182 on Saturday, October 1, 2022 from 1:00 p.m. to 4:00 p.m.
Interment will be held in the Eagle Mills Cemetery at a later date. Jack spent the best part of his life in Eagle Mills raising his family, so he will be coming home.
Jack's family would like to offer their most sincere gratitude to the staff at Eddy Village Green for taking care of him and giving him a place to call home the past year and a half. Also, special thanks to Hospice for ensuring he was able to transition in a peaceful way.
Please feel free to view Jack's Memorial Video or to express your on-line Condolences by visiting sanvidgefuneralhome.com