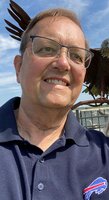 Jeffrey Clark Eidens
Jeffrey Clark Eidens, 69, of Bradley Circle passed away peacefully on Tuesday Sept. 27, 2022 at his home in the loving care of his family. He was born on Sept. 16, 1953 in Olean, NY and was the son of, the late, Clarence and Dorothy Clark Eidens.
Jeffrey started his science career at Alfred State University and The College of Saint Rose and enjoyed 40 rewarding years as a Chemical Engineer focused on nuclear fuel technologies, operations and advisory as part of the Naval Nuclear Propulsion Program and the U. S. Department of Energy in both New York and Tennessee. He holds multiple patents for his development of new technologies that power the Navy's fleet and was very passionate about the promise of nuclear technology in other fields.
In recent years, Jeffrey bravely battled Pancreatic Cancer and Leukemia, diligently researching, informing his own treatment and defying all the odds. He was very proud to contribute to the research needed to find a cure by participating in a clinical trial at Roswell Park Cancer Institute and helping others by being part of the Pancreatic Cancer Action Network.
Jeffrey was also instrumental in leading the Burnt Hills-Ballston Lake Pop Warner Football program and booster club. He was a die hard member of the Bills Mafia and lifelong Buffalo Bills fan. Jeffrey also loved traveling, Bluegrass music, fly fishing and brewing his own beer.
Above all, his greatest joy was his family, which included his wife Jackie of 48 years, his daughter, Melisa Dettbarn (Jason) and son, Brian Eidens (Lacy) and especially his 7 grandchildren: Milo, Zoey and Stella Dettbarn and Presley, Harley, Deklan and Beau Eidens. He is also survived by his sister Michelle Eidens, his brother Michael Eidens (Kathryn) and many neices, nephews and cousins.
Calling hours will be from 4-7 pm Friday at the Gordon C. Emerick Funeral Home, 1550 Rt. 9 Clifton Park, NY 12065 with a Celebration of Life Service being held at 5 pm.
Memorial contributions may be made toPancreatic Cancer Action Network (donate online):
https://secure.pancan.org/site/Donation2?df_id=2681&mfc_pref=T&2681.donation=form1 or to the Shenendehowa Football Program: