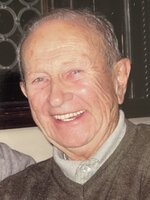 Timothy M. "Tim" Maloney
Timothy M. Maloney passed away peacefully on October 2, 2022 at his home in Clifton Park surrounded by his eight children. Tim had a full and wonderful life. His wife Margaret V. Maloney, the light of his life, predeceased him in June of 2010. Tim met Margaret at a party while on a blind date with another girl in August 1949. Margaret caught his eye and they were married in October 1951.
Margaret was from Saratoga Springs, NY. His friends teased that he was the only man they knew that went to Saratoga and came home with a winner. They were blessed with eight children, ten grandchildren and three great grandchildren. Their children are: Mary Louise Maloney (Thomas) Buckley of Falmouth, MA; Timothy M. (Joann) Maloney of Saratoga Springs, NY; Daniel C. (Rebecca) Maloney of Moreau, NY; Margaret-Ann (Tony) Bolton of Mashpee, MA; Michel J. Patterson of Loudonville, NY; Stephen C. Maloney of Brighton, MA; Maura A. Maloney of Boston, MA; and Dr. Michael J. (Lynne) Maloney of Cohoes, NY. Margaret and Tim made their home in Newtonville, NY for forty years before moving to Clifton Park, NY in 2000.
Tim was born on Christmas Eve in 1922. He was the only son of Timothy M. Maloney and Mary Catherine (O'Grady) Maloney. His father was a WW1 veteran, and passed away when young Tim was four years old from injuries sustained in France. Tim proudly grew up in South Troy where he made lifelong friends who often proclaimed, "South Troy against the world." He graduated from LaSalle Institute (class of '41) and attended Siena College prior to entering the Navy where he served with a torpedo squadron - TBF'S - during WW2. After being discharged, Tim attended R.P.I. and graduated with a mechanical engineering degree with the class of 1950.
Tim had a long career with the General Electric Company that spanned several decades. He received many awards and recognition for his engineering and managerial achievements. Tim continued working as a licensed NYS Professional Engineer and consulted for many corporate clients after retiring.
Tim was a member of the Colonie Elks, the American Legion, Knights of Columbus, and the Edison Club in Rexford, NY where he enjoyed playing golf in the leagues. After retiring, Tim and Margaret spent their winter months at St. Augustine Beach in Florida.
He was a devout Catholic and served as a Eucharistic Minister at Our Lady of the Assumption Church in Latham, NY where his memorial Mass will be celebrated on Friday, October 7, 2022 at 9:30 a.m. Military Honors will follow at 11:30 a.m. at the Gerald B.H. Solomon Saratoga National Cemetery.
There will be no viewing hours.
In lieu of flowers, those who would like to honor Tim's memory are invited to make contributions to their local cancer society.
Please feel free to offer your on-line Condolences by using that tab on this website.