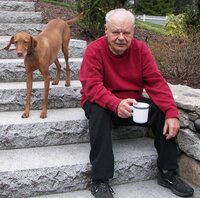 Michael Joseph Hartnett, Sr.
Michael Joseph Hartnett, Sr., 83, of Clifton Park, New York, passed peacefully on Monday Oct. 17, 2022 after a protracted illness. He was born in Manhattan and was the only child of the late Florence (Grabska) and Harold E. Hartnett, MD. Michael was a graduate of Dannemora High School and Rensselaer Polytechnic Institute '63.
Michael married the love of his life, Carolyn, in '61 and together they raised three children in Clifton Park while he pursued his career in engineering at General Electric Gas Turbine. Michael was recognized professionally, and appreciated personally, for his principles, tenacity, insights and problem-solving skills. He was a tireless advocate for his family and business partners.
The lens that Michael brought to the world was one of profound curiosity, and he always made it a point to ask "why". An avid outdoorsman and naturalist, Michael especially enjoyed sharing his knowledge and love of nature. Michael was also an incredible "dog whisperer" and developed unique bonds with the dogs fortunate enough to be in his orbit. Michael will be greatly missed by the many lives he touched.
Michael had a wry sense of humor that stayed with him to the end, made people laugh, the difficult more bearable, and endeared him to those around him. He could fix anything mechanical and appreciated the beauty of good design and engineering. Not one to wear his heart on his sleeve, Michael showed his love through small acts of kindness.
Surviving is his wife of 62 Years, Carolyn, daughter Kathleen Hartnett (Mark Foster); son, Patrick Hartnett (Katalin Őri) and Michael Hartnett, Jr. (Charmaine); cherished grandfather of Reed Foster, Gabriel Hartnett, Chandler (Rebecca Gasperoni) Hartnett, Sabina Hartnett, Isabelle Hartnett and Raelani Hartnett.
Memorial service will be held on Saturday Oct. 29, 2022 at 10:30 am in the Gordon C. Emerick Funeral Home, 1550 Rt. 9 Clifton Park, NY 12065 with the Rev. Patrick Butler, Pastor of St. Edward the Confessor Church in Clifton Park officiating.
A calling hour will precede the funeral service in the funeral home from 9:30 – 10:30 am and interment will immediately follow in Jonesville Cemetery, Jonesville, NY.
In lieu of flowers, memorial donations may be made in Michael's name to the Adirondack Land Trust, https://adirondacklandtrust.org/ whose mission is aligned with his love of the outdoors.