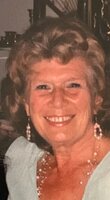 Yolanda M. Santiago
Dateline: Saratoga Springs, NY
Yolanda M. Santiago, 96, of New Bern, NC died at the Wesley Health Care Center, Saratoga, NY, on Saturday October 22, 2022,
after a long illness. She was born on October 12, 1926, in Detroit MI and was the daughter of the late Leslie and Edith Burns Nerber. She grew up in Lockport, NY and in her early years she was a Licensed Practical Nurse and an accomplished jazz singer, having made several recordings. She left her entertainment career to raise her family, with her husband Donald W. McMorrow in Cross River, NY. After
her children were grown, she retired to New Bern NC where she resided with her late second husband Carlos Santiago. While
retired Yolanda and Carlos enjoyed many vacations traveling across the United States. She was known for her love for music and
acerbic wit.
She is the devoted mother of Denise B. Duffy (Jack) of Naples, FL and Clifton Park, NY, Darren McMorrow of Delray Beach, FL and the
late Thomas McMorrow, cherished grandmother of Jacqueline, John, Jenna Duffy, and Christina McMorrow.
Graveside services will be held at Greenleaf Memorial Park, New Bern NC. at 12 noon on Saturday November 5, 2022.
There will be no calling hours.
Memorial contributions may be made to Saint Jude Children's
Research Hospital.
Arrangements have been entrusted by the family to the Gordon C. Emerick Funeral Home, 1550 Rt. 9 Clifton Park, NY 12065, 518-371-5454.