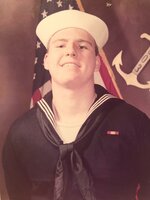 Paul J. Hayner
PAUL J. HAYNER 1/16/54 - 11/6/22
Paul passed away peacefully in his sleep on 11/6/22 after a long illness.
While in high school, he enjoyed working at a local farm after school. After high school, he enlisted in the Navy where he served for 2 years. He then worked for the Town of Brunswick before driving tractor trailers for DOT Corcraft from which he retired from after 35 years.
He is the son of Elaine Hayner of Troy and the late Howard Hayner. Others he leaves behind are his sister Diane (Columb) Devine of Stephentown; sister Laure (Randy) Premo of Troy; brother Stephen Hayner of Troy; nephews Chas and Alex Premo of Troy; and various cousins.
There will be a Memorial Service at a later date.
You are invited to offer your on-line Condolences by using that tab on this website.