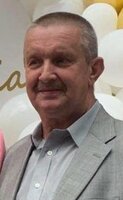 Stanislaw "Stan" Klapacz
Stanislaw "Stan" Klapacz, 63, formerly of Wynantskill, New York and presently of New Baltimore, New
York, passed away unexpectedly at home after taking ill on Wednesday, November 9, 2022.
Born and educated in Ropa, Poland, he was the son of the late Wladyslaw Klapacz and the late
Wladyslawa (Prorok) Klapacz and the beloved husband of the late Marzanna Josefa Franczak Klapacz
who passed away on September 20, 2010.
Stan came to the United States in 1984. Mr. Klapacz retired two months ago from UAlbany in Albany.
Stan was a talented and skilled tradesman. His hobbies and interests included fishing and driving. Stan
was well-liked by those who knew him and he was always willing to help others.
Devoted father of Dariusz "Darek" (Katarzyna) Klapacz, Iwona Klapacz (Krzysztof Mertens), Andrzej
(Sabina) Klapacz and Patrycja "Patti" (Shawn) Gilman, loving brother of Maria, Jan, Tadeusz, Kazimierz,
Barbara and Krystyna, cherished grandfather of Marlena, Patryk, Emilia, Olivia, Marcelina, Laura, Zoe
and Samson also survived by first wife Zofia Klapacz.
Relatives and friends are invited to his Rite of Christian Burial prayer service on the 18th day, November,
2022 at 1:00 P.M. at the Oakwood Cemetery (for GPS directions please use 186 Oakwood Avenue, Troy,
NY 12182). Continue through the Oakwood Avenue cemetery gate and gather in the roadway directly in front of the Gardner Earl Memorial Chapel which will be on your left to proceed together to the grave in a procession led by the funeral home.
Funeral arrangements have been entrusted by the family to the Morris-Stebbins-Miner & Sanvidge
Funeral Home, 312 Hoosick Street, Troy, NY 12180.
You are invited by Stan's family to offer your on-line Condolences by using that tab on this website.