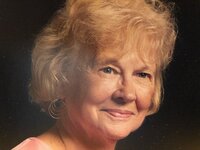 Leslie Patrice Miller
Leslie Patrice "Pat" Miller, 92, of Broadleaf Drive passed away on Saturday Nov. 12, 2022, at Albany Medical Center Hospital after a short illness with her children present. She was born on April 13, 1930, in Boelus, Nebraska and was the daughter of the late Leslie Oather and Hattie Minerva Upton Mann. Pat was a graduate of and Valedictorian of her class at Boelus High School. She graduated from the University of Nebraska where she became a devoted Cornhusker till the day she died. Pat received her master's degree years later from the University of Albany in Education (Remedial Reading). She taught in the Shenendehowa Central School District for 36 years, most of this time spent at Okte Elementary School, for which she had a special fondness. Pat previously resided in Auburn, NE and Montevideo, MN. Her family roots go back to the early 1800's in West Virginia, and she was very proud of these roots. She was a member of Shenendehowa United Methodist Church in Clifton Park for 53 years and was active there in her younger years. Most important to Pat was her close friendships, love of family and their quadrennial family reunions. She was the former wife of the late Richard C. Miller and more recently the dear companion of her beloved J. William "Bill" Ireland.
She is the devoted mother of Richard (Emily) C. Miller, Jr., Suzanne (Michael) A. Felluca and Sarah (Joseph) E. Maguire; sister of the late Earl Mann and Katherine McDowell; cherished grandmother Ciahnan (Jennifer), Cyrus (Erica), Carly (Neil), Luke (Adele), Jacob, Christopher (Stephanie), Allison (Dillon), Alexandra (Scott), Tom and Leah; also survived by 10 great grandchildren, 7 nieces and nephews and her lifelong friends, Helen Casey and Shirley Sawyer, as well as her childhood friend Gene Lightfoot.
Calling hours will be held on Tuesday Nov. 22, 2022, from 4:00-7:00PM at the Shenendehowa United Methodist Church 971 Route 146 Clifton Park, NY 12065.
A memorial service will be held at the church on Wednesday, Nov. 23, 2022, 10:00AM.
For those unable to attend, we invite you to watch on-live at: shenumc.org.
Pat had the deepest respect for the Armed Forces, and she loved animals. She was also passionate about literacy. Therefore, in lieu of flowers, Memorial contributions may be made to Semper K-9 Assistance Dogs, SemperK9.org or to Reading is Fundamental, RIF.org.
Arrangements have been entrusted by the family to the Gordon C. Emerick Funeral Home, 1550 Rt. 9 Clifton Park, NY 12065, 518-371-5454.